As mentioned above, the XML processing model of Axis2 has become a separate sub-project, called Apache Axiom, in the Apache Web services project. Please refer to the OM Tutorial for more information.
SOAP Processing Model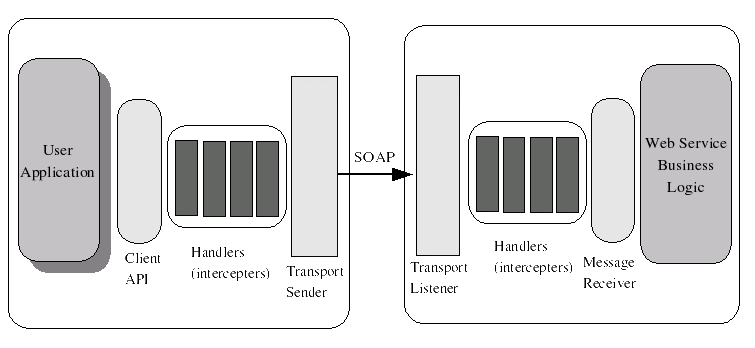 The architecture identified two basic actions a SOAP processor should perform, sending and receiving SOAP messages. The architecture provides two pipes (or flows) to perform these two basic actions. The Axis Engine or the driver of Axis2 defines two methods, send() and receive(), to implement these two pipes. The two pipes are named In Pipe and Out Pipe, and complex Message Exchange Patterns (MEPs) are constructed by combining these two pipes.
Extensibility of the SOAP processing model is provided through handlers. When a SOAP message is being processed, the handlers that are registered will be executed. The handlers can be registered in global, service, or operation scope and the final handler chain is calculated combining the handlers from all the scopes.
The handlers act as interceptors and they process parts of the SOAP message and provide add-on services. Usually handlers work on the SOAP headers, yet they may access or change the SOAP body as well.
When a SOAP message is being sent through the Client API, an Out Pipe activates. The Out Pipe will invoke the handlers and end with a Transport Sender that sends the SOAP message to the target endpoint. The SOAP message is received by a Transport Receiver at the target endpoint, which reads the SOAP message and starts the In Pipe. The In Pipe consists of handlers and ends with the Message Receiver, which consumes the SOAP message.
The processing explained above happens for each and every SOAP message that is exchanged. After processing one message, Axis2 may decide to create other SOAP messages, in which case more complex message patterns emerge. However, Axis2 always views the SOAP message in terms of processing a single message. The combination of the messages are layered on top of that basic framework.
The two pipes do not differentiate between the Server and the Client. The SOAP Processing Model handles the complexity and provides two abstract pipes to the user. The different areas or the stages of the pipes are called 'phases' within Axis2. A Handler always runs inside a specific phase, and the phase provides a mechanism to specify the ordering of handlers. Both Pipes have built-in phases, and both define the areas for 'User Phases' which can be defined by the user.